Your engaged, you have picked your venue, and now it is time to start shopping for your bridal gown.  There are various wedding shops throughout the Dallas Ft. Worth area.  Your wedding dress shopping should be a wonderful, stress free experience.  The staff at the shop should be there to help you every step of the way.
Here are some helpful  tips and advice when you are ready to start selecting your place to purchase your wedding dress.  
Most shops require an appointment, especially on the weekends.  This allows the sales associate to put time aside just for you.  Call ahead and talk to the shop as to what to expect, their dress designers,  price point,amount of time allowed to try on dresses, and how many people you can bring with you.  Was the staff friendly and open with you on the phone?
Read the shops reviews on line!!!!  What are the customers saying about their business and service?  Research on-line wedding advertisement like The Knot or Weddingwire for reviews also.
Ask your girlfriends who recently got married where they got their dress and how their service was.
If you have a crazy schedule, does the shop allow off-hour appointments?
Does the shop have a in-house seamstress?  It is VERY important that you have a seamstress that knows specifically how to do alterations on these delicate dresses.
Is your sales associate trying to push you to purchase a dress that day?  You should never feel pressured like your buying a used car!!!  Buying your wedding dress is an important decision to make.
The sales associate should be helping you find your dream dress.  She should know the dresses in the shop, their cut and style that you are looking for.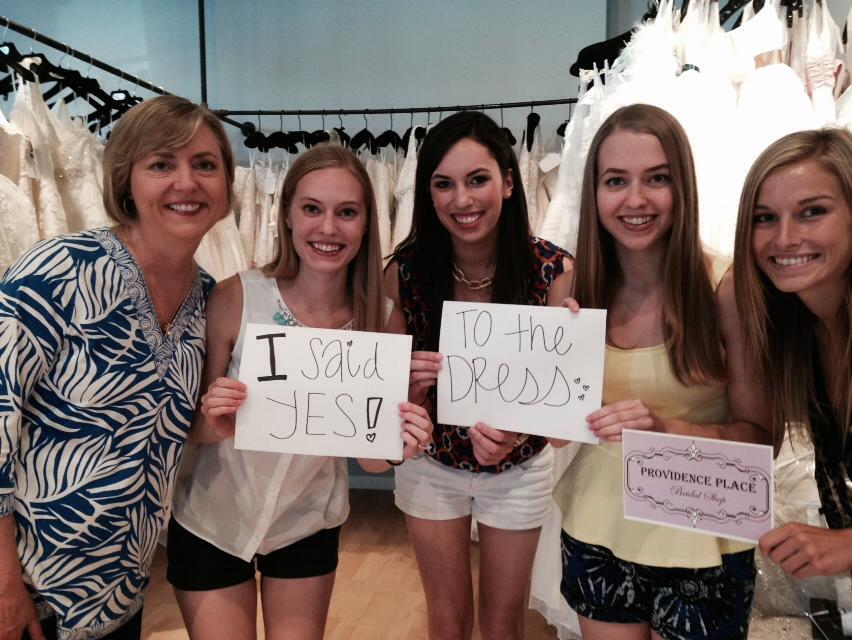 When your looking for a shop/boutique to purchase your wedding dress, we hope you will check out Providence Place Bridal Shop, located in Rockwall, Tx.    Why shop at our exclusive boutique?
Our boutique is not a chain store.  We are the type of store where you will get to know the staff and owner.
90% of our customers are from referrals from our brides.  This is the best advertisement we could have.  Our brides are happy with their experience and tell all their family and girlfriends about our superior service.
Our sales staff is friendly and efficient.  You will never feel high pressure sales from the staff.  Many brides choose to work exclusively with their sales associate.
We have great on-line reviews
We can make off-hour appointments for the brides that cannot make it during regular business hours.  We understand that many of our brides are nurses, police officers, out of town college students who need an appointment that isn't during our posted hours.
Providence Place Bridal Shop has a in-house seamstress that is the best in the DFW area.  All alterations are done by Karen Garner who will meet you here in the shop.
Our staff can not only help you with your wedding dress, but bridesmaid dresses, tuxedos and flower girl dresses.  We are truly a "on-stop wedding shop".
Providence Place brides become like family.    We are here to help in any way.  Need wedding advice, call us!!! Our advice is free.
We know that you have a choice as to where to buy a wedding gown.  We truly love our customers and hope that you will check out Providence Place Bridal Shop.  We are located at 2065 Summer Lee Suite 101, Rockwall, Texas at The Harbor.  Our contact number is 214-435-8962.  Our website is ProvidencePlaceBridal.com
I look forward to helping you in anyway,
Lynette-Owner