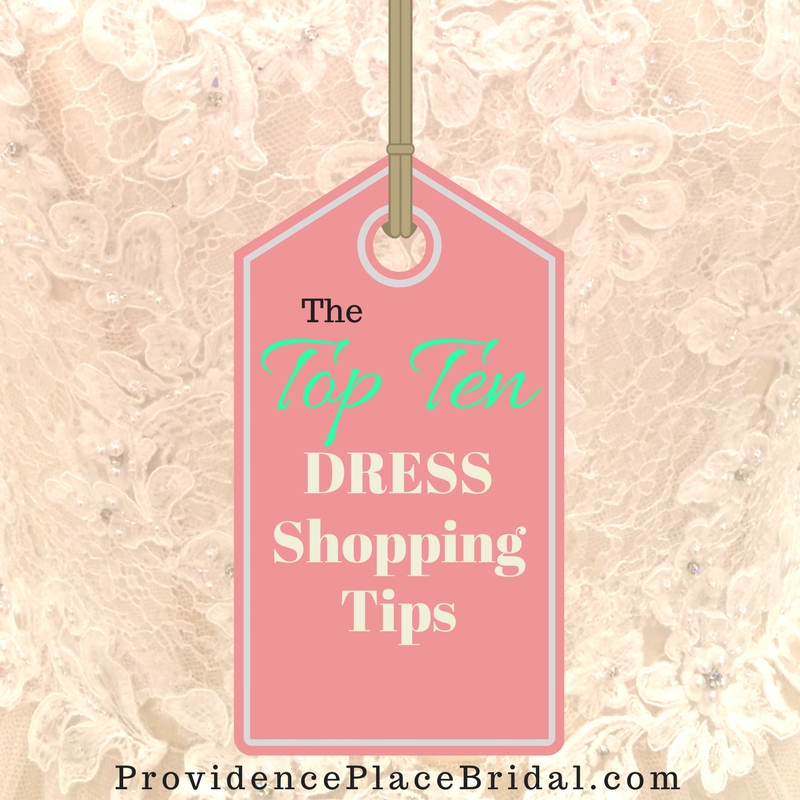 The experts at Providence Place Bridal Shop have helped many brides find their perfect gown, here are our Top 10 Wedding Dress Shopping Tips for your bridal gown appointment.
What look gets the most compliments? – You may have a certain look in mind for your dream wedding dress but it may not be what looks best on you. Try to remember a time when you were told that a certain look really worked for you. That is your starting point.
Does your bridal party make you feel good? – Some of us must invite the cousins into the wedding party because our parents are paying for it and they said so, but if they are not there to make you feel great, don't invite them to your bridal gown appointment. No one needs a rude bridesmaid to ruin their day.
Your budget. – Get a number in your head. A real one, that you can afford. Don't go broke over your wedding dress and don't push whoever is footing the bill for more. It can cause major issues later. Get a number and know it before you show up for your appointment.
Don't eat salty food. – You are about to squeeze your body into some of the most awkward forms of fashion known to mankind. Be nice to yourself and your bridal associate and make sure you drink lots of water the day before your bridal appointment.
Know your size. Your real size. – The wedding gown purchase is serious. This is no time to lie to yourself about your size. A reputable shop will measure you and give you your true bridal size (which runs small) and you need to use those numbers. Don't buy a bridal gown with the intention of losing weight. Just get it altered if you do but for now, buy the size they tell you.
Plan enough time. – These things can take hours. Don't think you will be in and out in no time. You will need to try on a lot of bridal gowns and then re-try on looks that you started with and then compare them with other looks. It takes time. Plan accordingly.
Plan enough time Part 2. – Theses dresses are custom made to your measurements. There are dresses that can be ordered on a rush and some that are bought off the rack, but for the most part, there is a lead time to get them made. You may not be able to find the dress you want in the time you need it if your wedding is four weeks away. Just know that you must plan accordingly and ask to only see gowns that fit your timeline- and your budget.
Bring the shoes. – If you know the height of shoes you like to wear, bring them with you to the appointment. And back with you again to the alterations.
Have fun! – This is a big part of your special day. Make it fun! Order the special package with the champagne for your bridal party to sip while you don dresses. Go out to lunch or dinner after the appointment is over. Celebrate every look and option as they lead you to the right dress for you!
– Nearly every dress looks great on a bride that is happy. If you relax, enjoy being pampered and you will have a great time. And, if the dress shop that you are in is not making you smile, then take your business to one that does. This is your money, your wedding, and your memory. It's to be celebrated by everyone involved!